Achievements
Awards, Fellowships and Appreciation
Our institution's financial trustee and project officer Mrs. V Muthulakshmi and Our Hon'ble Director Dr.S.Vijikumar was selected as a fellowship of Jamsetji Tata National Virtual Academy for Rural Prosperity (FNVA).They are received their certificates in the occasion of MISSION 2007 and 2010 New Delhi and Chennai for his invaluable service to the cause of spreading a Knowledge Revolution in Rural India.
Also our institution was appreciated by our formal president of India Dr.APJ.Abdul Kalam and Prof.Dr.AM Moorthy principal Koviloor Andavar College of Physical Education-Koviloor.Last year our organization has received Best NGO award 2008 and 2010 from Peace trust Dindugul (RRA/NEAC-Ministry of Environment and forests, Govt of India NewDelhi) for Environmental conservation activities. Several appreciation letters received from Local, State and Central govt. authorities for our various rural development activities.
Appreciation and Greetings from
Dr.A.P.J Abdul Kalam,
formerly President of India.
Best NGO Appreciation letter from
Peace Trust,
Dindigul/Regional Resource Agency/Ministry of Environment & Forests,Govt. of  India,2010
Best NGO Appreciation Certificate from
Peace Trust,
Dindigul/Regional Resource Agency/Ministry of Environment & Forests,Govt. of  India,2008

Online edition of India's National Newspaper
Tuesday, September 09, 2008
Save the planet
M. BALAGANESSIN
The rural students were exposed to the urgent need for preserving the earth against global warming.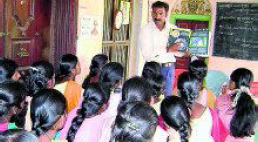 Eager audience: Playing their part.
Under the auspices of the Tamil Nadu Scientific Research Organisation in Arimalam village near Pudukottai,
a one-day awareness lecture session on "global warming and climatic conservation" was organised at the
village recently. A large number
The director of the organisation, S. Vijikumar, who delivered the lecture, sensitised the students to the
causes of global warming and explained the steps to check global warming which has an adverse impact on
plant and animal life. A resource-person Muthukumarasamy said that global warming resulted in natural
calamities.
He emphasised the need for planting of trees to check the menace. A group discussion was held in which
students discussed the means for contributing their mite to check global warming. Free saplings of
'marutham' and 'iluppai' species were distributed to the students. Prizes were given to students who won in
competitions held as part of the session.

Online edition of India's National Newspaper - Tamil Nadu
Monday, May 26, 2008
Biodiversity School opened
M. Balaganessin
To create awareness of need to conserve ecology among people in Pudukottai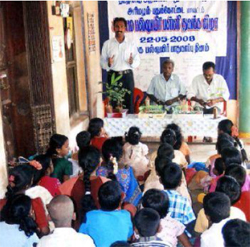 Right guidance: S. Vijikumar, Director, Tamil Nadu Science Research Organisation,
Arimalam, Pudukottai district, addressing students of Village Biodiversity School.
PUDUKOTTAI: With the objective of sensitising the rural masses to the importance of conservation of ecology, the Tamil Nadu Science Research Organisation in Pudukottai district, has started a 'Biodiversity School' at Arimalam village.Protection of environment, conservation of endangered birds, animals and species particularly those of herbal value,ensuring people's participation through a scientific approach and involving rural children in the process are some of the goals of the school. Inaugurating the school, the District Co-ordinator of the National Green Corps, A. Arangan said that a weekly awareness programmes would be held in and around Arimalam to sensitise the masses about the need for protecting the bio-diversity of the villages. He appealed to the students present in large number on the occasion and plant saplings as a drive against global warming. He also released a guide on the objectives of the school. The Director of the Organisation, S. Vijikumar, who presided over the function, said that every villager was free to enrol as a member of the school. The School at Arimalam would function as District Resource Centre. A few more schools would be started in select villages in the district in course of time. Based on the response from the villagers and volunteers, similar units would be opened in all villages.
Group discussions Seminars and group discussions on stabilising ground-water table, special sessions on promoting bio-farming techniques and ecological development would be held in which scientists, volunteers of service organisations, farmers and villagers would participate. Field visits to successful units and organising photo exhibitions would be a periodical feature of the responsibilities of the School. Receiving the first copy of the guide, the Director of Rural Development Organisation, M. Kuzhandaivelu, appreciated the school's efforts in protecting the quality of the soil. Competitions on ecology-related topics were held in which a large number of school students participated. Prizes
were distributed to the winners of these competitions on the occasion.